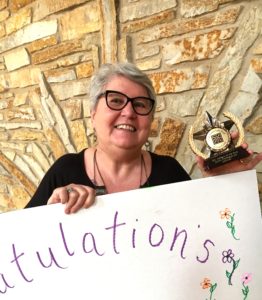 Long time Guild member Joan Paparigian has been named the 2017 Lake Forest-Lake Bluff Artisan of the Year. Joan is a self-taught artist who creates uniquely fanciful jewelry.
See her work at our Fall Show, September 3-4 and the French Market Holiday Boutique November 8-9.
Artist's Statement
Joan Paparigian
Quatraluna
Having spent my college years working in my grandfather's jewelry/watch repair shop, I can honestly say that jewelry has been part of my personal history. However, I didn't begin to make jewelry until a few years ago when I needed a specific piece that was nowhere to be found. Why not make it myself, I thought, creating just what I wanted and, more significantly, finding my artistic niche.
I enjoy taking bits and pieces and transforming them into wearable art. There is an endless variety of materials and an equally varied number of methods to use. Traditional necklace and earring sets made with pearls, gemstones and crystal have some fun aspect about them. Quirky "steampunk" items made with watch parts and mechanical gears speak for themselves. I love making things that are whimsical and fun to wear.
Not only is there a challenge to making jewelry, there is also the satisfaction of knowing that each piece will "speak" to someone else as well as to me. Jewelry is a personal statement, not an accessory.