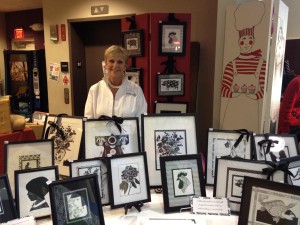 The Lake Forest-Lake Bluff Artisan Guild seeks to respect the traditions of the creative arts by inviting them to join a community of artisans, to share their interests and explore the development of their craft.
The Guild is composed of members at every level of experience and in all areas of interest, including, but not limited to: glass design, fiber arts), jewelry design/beadwork, ceramics, metal work, decorative painting, woodworking, graphic and ornamental design, food arts, portraiture and sculpted forms.
Benefits of membership include:
Meetings, programs and outings of general interest to all artisans
Opportunity to participate at member rate in Guild shows
Opportunities to contribute your work or a portion of your sales to benefit charitable causes
An open invitation to display your work at general meetings
How to become a member:
All applicants must submit at least three digital photos of their work and be sponsored by a current member. If you do not know a Guild member, sponsorship may be arranged by the Board. Fees are $40 per year. Membership year runs January-December.
For more information or an application go to CONTACT US