Upcoming Events / Shows:

Join us September 2nd-3rd, 2018 Just off the Square in beautiful historic Lake Forest.
45 local and regional Artists and Friends showcasing unique fiber arts, ceramics, woodworking, glass, photography, painting, metalworking, jewelry, garden art, mixed media and more!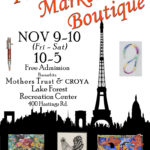 Join us for an authentic and lively French Market, November 9 from 10 a.m. to 7 p.m. and November 10 form 10 a.m. 4 p.m.